In the many service areas Memphis Reprographics provides, our goal is always to be more than a printer to our clients. You've seen the way our quality check process helps you meet your deadlines, bottom lines, and build your reputation. We've shared our vision and forward-thinking strategy in developing the MidSouth Planroom to serve and better our local businesses. Our custom planrooms provide clients easy to manage software solutions to improve your workflow, and we cited the myriad of ways a document management plan can relieve the headaches in the construction industry.
How do all these elements work together to create a seamless environment for both you and Memphis Reprographics? We talked to two current clients to get their take on how our years-long partnership has benefited their business.
Allen & Hoshall
Since 2014, Memphis Reprographics has developed a partnership with Allen & Hoshall to provide document services including printing, shipping, delivery, distribution, scanning, and more.
As a local firm of engineers, architects, and surveyors, Allen & Hoshall prides themselves on getting ahead of the technology curve and always using the most up to date and innovative practices in the industry. But after searching in house for a way to streamline their work in 2016, a custom planroom and document management service were the only solutions that ticked all the boxes. It was important to have a digital system that everyone on any project could access.
With Allen & Hoshall's 6 offices throughout the US, Memphis Reprographics created a unified system that every office could easily use and while also giving access to the MR team's expertise. The cloud-based virtual planroom gives them project access and audit controls, internal notifications, tracking for project updates, and includes a bid tool for receiving and managing the bid submission process. This allows them to expand their own practice beyond the local reaches of their offices into other states and regions, all the while creating more revenue for them and allowing for faster response times. Their bidding process is streamlined for their own clients, and helps their internal team track and promote projects. Memphis Reprographics certifies that all the information, specs, and drawings are correct, consistent, and ordered correctly with every project uploaded to the planroom. Even a last minute added project is a simple task when there's an efficient system in place.
Overall, every new process implemented by the Memphis Reprographics team has been positively received by the Allen & Hoshall staff, clients, and even bidders. Through their partnership with Memphis Reproprographics, Allen & Hoshall's level of service and quality of work has only increased.
"Memphis Reprographics is a leader in outstanding quality printing and customer service. Their staff is knowledgeable and attentive to all of our needs whether it is printing, plan room, or delivery. There are very few companies that set high standards and keep it a common practice, Memphis Reprographics is definitely one that does just that."
Allen & Hoshall
Zellner Construction
Zellner Construction first started working with Memphis Reprographics in 2010, very soon after MR was founded. Beginning with services like printing, shipping, delivery, distribution and scanning documents, it soon developed into partnership that included planrooms and document management as well.
Zellner desired a partner that understood the demands and requirements of the construction industry with quick turnarounds and answers needed. Both of the teams clicked from the start and have continued to work closely together on project after project. As Zellner grew its business, the Memphis Reprographics team was there to scale alongside them, adding new team members of their own that took ownership of solutions and worked to expand industry knowledge at all times.
For example, Zellner was one of the first clients to use a cloud-based custom planroom after MR first launched it as a service in 2011. Through continuous feedback, the platform was developed that functions intuitively and streamlines workflow for not only them but also future users. And as with most clients, the attention to detail with each and every document that comes through Memphis Reprographics's door adds significant value. By catching errors early, Zellner is able to cut down on production costs by eliminating unnecessary reprints. When it comes to document management, they value Memphis Reprographics's expertise on how to best present and organize the information, in addition to catching errors.
As the partnership has continued over the years, Zellner has regularly emphasized the timely, friendly service they can expect to receive with every project. Memphis Reprographics is able to support their team through this partnership as they've grown and continue to introduce new, efficient services that assist all clients.
"I can talk to anybody on the Memphis Reprographics team and know that they're going to do the job in a timely manner that's above and beyond anyone else in Memphis can provide. They're constantly trying to better themselves. You won't find a better team with their level of attention to detail and customer service."
Zellner Construction
Partners in 2021, Partners for the Future
Over the past year, we handled a lot of documents—and that may be putting it too simply. And while physical documents remain a steady service, we took a look at the amount of projects and files currently in our entire digital network of planrooms. This includes individual custom planrooms in addition to the MidSouth Planroom. Over 19,000 users benefit from this virtual service and are able to access upwards of 2,000 projects. 2022 is already shaping up to be a busy year for the construction and design industry!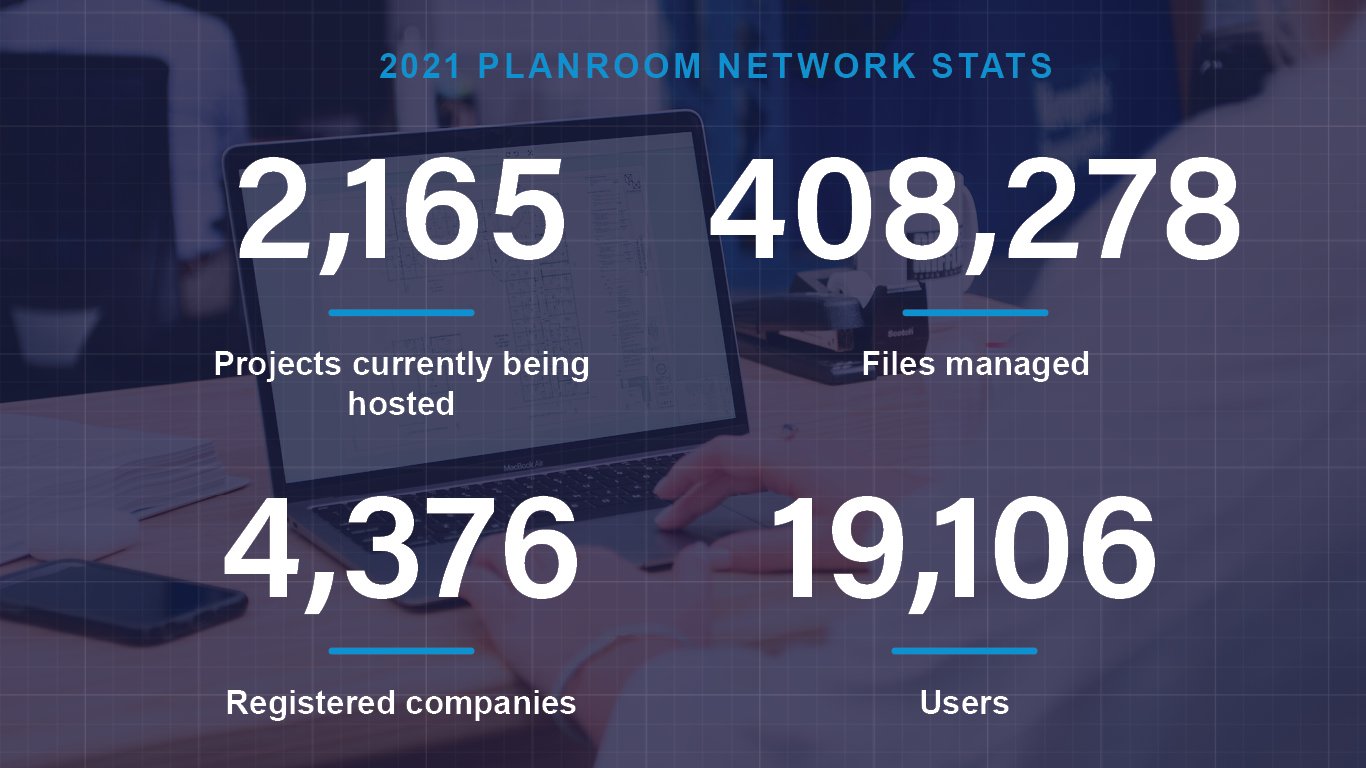 Whether you are a large or small firm, there are most likely inefficient areas of your business that need a second look. Many of the small firms we work with benefit from 2-3 service areas like quality checks, fast printing, and access to the MidSouth Planroom. As your business grows, we scale alongside you to keep streamlining your process with complete document management, a custom planroom, and more. But no matter your needs, our goals focus on a bigger picture than the current project at hand. We think about the ripple effect of inaccurate documents or a disorganized system, the problems that can occur, and how we can help you mitigate those issues and maintain your reputation and business relationships.
If you're looking for a partner to grow your business, increase your ROI, or simply provide expert advice on how your team can work best, get in touch with us.