As organizations have evolved over the years, the underlying architecture of information technology has tended to evolve with them, often in an unsystematic or "ad hoc" fashion. The result is often a complex network of technologies: created for specific individual applications, but difficult to adapt, refresh, and integrate on a macro or enterprise. Thus we get the ever popular term "silo". "Information Silos" refer to any system or process that is unable to operate or communicate with another system or process. As a consequence of "silos" in organizations, it often required significant effort to make changes, or even to understand the implications of these changes on employee needs and business performance.
In November 2019, IBM commissioned Forrester Consulting to investigate the modernization of business processes and workflows by conducting an online survey of 450 global decision makers. Whether it was a website redesign, mobile app development, or streamline customer self-service capabilities, companies brought to market new digital experiences to serve and retain their evolving customer base. It should be no surprise that re-envisioning business processes and workflows can be a daunting and detailed task. One of Forrester's key findings were "when modernizing, flexibility, automation, and data are key" 1. The top drivers for the case of process modernization of the respondents surveyed were:
Increase Productivity

Improve Customer Experience

Grow Revenue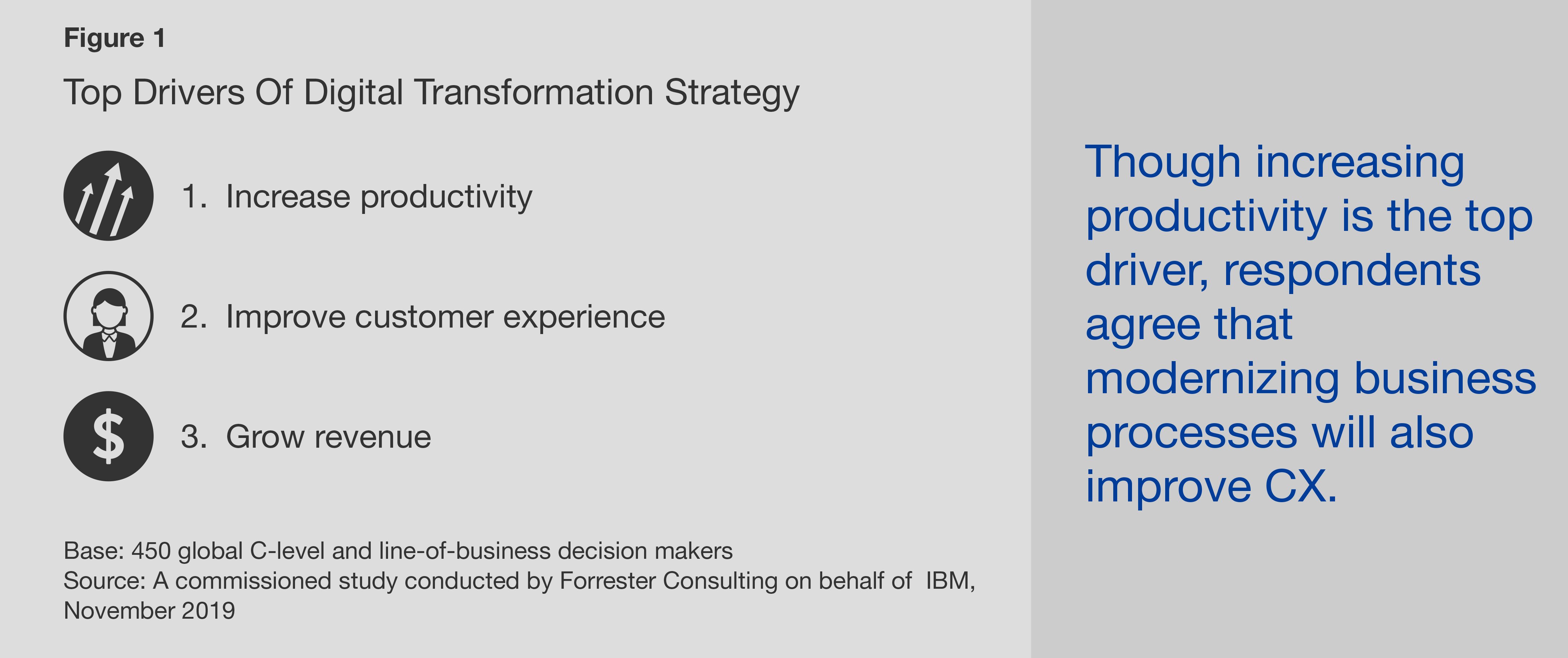 Modernizing processes in support of digital transformation is no easy task but the returns are proven in measuring customer experience, agility, growth, productivity, and cost reduction. Those organizations that have leveraged services and systems to re-engineer processes are better equipped to take on the challenge of modernization. They see improvements in workflows and productivity in greater proportion than those that choose to go it alone (those that stay in an "ad hoc" adjustment to change).
Where do you begin? Start by developing a solid business case for the modernization effort, showing expected value and measured improvement. Make sure to include the most important outcomes for employee and customer success. Clearly define how each facet of the new system will contribute to your organizational goals. You should be able to point to measurable improvements in key metrics — for example, customer retention, user experience, sales, productivity, and recruiting.
Instead of assuming a trade-off between simplicity and the features you need, look for systems that give you both. Many modern systems can combine simplicity at the back end with enhanced functionality at the front end. Be aware that it can take time to properly research and vet the right system to implement. As Steve Jobs said, "Details matter, it's worth waiting to get it right". Impulsive decisions can lead to unwanted complexity in individual or organizational process.
Complex systems make it impossible for businesses to operate with agility. Want to add a new robust system or change the way your data works? Get ready for a project plan with a scope of months, if not years (we recently fell victim to an overtly complex and robust roll-out). By the time you're done, there's probably going to be a new solution out there to "solve" all your woes. Why change if your new solution will just be outdated by the time it's fully implemented? As Forrester points out, "Enterprises may be aware that they need to dig deep and modernize workflows, but they're slow to full evaluate and adopt the appropriate technology and partner services that would help them overcome their greatest challenges." 1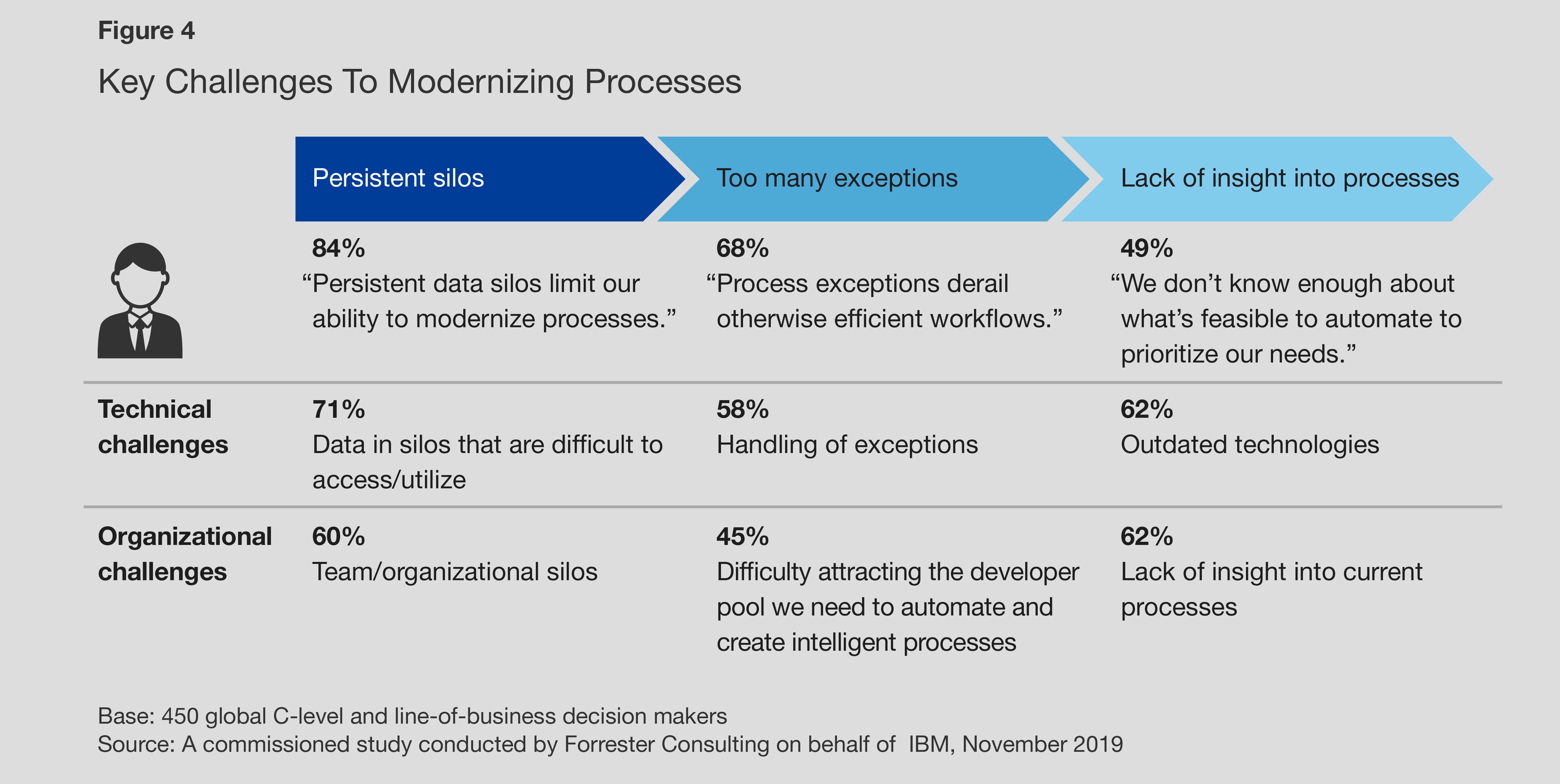 "The biggest wastes of time, money and resources come from complex systems." Cinchy CEO Dan DeMers 2
Simplicity makes it easier to take advantage of the software-as-a-service (SaaS) model, which allows organizations to procure increasingly complex functions on demand from their existing software providers without needing to manage the implementation or underlying resources. As with the consumer smartphone apps revolution, most new enterprise-level SaaS apps compete on quality and ease of use. The best ones rise to the top, containing costs and providing better experiences for the people interacting with your organization. As you implement these systems, "you'll learn that most customers and employees don't want an overabundance of menus and features. They prefer simple, flexible commands that move them quickly to their desired results."4
"Where there is friction [in the digital infrastructure], there is opportunity," Mindy Simon, CIO of Conagra Brands3
Embracing a simplified architecture requires a change in thinking, particularly when considering options for new systems and partnering arrangements. Establish clear IT design principles, focused on simplicity and strategic functionality. Shift from asking "How do we connect various systems and silos" to asking questions about adding value, attracting customers, and making life easier for your employees. Define a process that makes sense based on your organizational structure, and more importantly your strategically defined goals as it pertains to your organizational vision.
According to Dan Demers, Co-Founder and CEO at Cinchy, and Forbes Technology Council Member: "Companies can save themselves from the problem of technology overload by asking some very simple questions when they're considering data solutions:
What work does this take away? The goal of new technology is to make life simpler, so ask yourself what you'll be able to stop doing once your new technology is in place.
What work does this create? Be realistic about the added effort a new piece of technology introduces to your workflow. The more effort something requires, the more complicated it can make your life.
Is this really necessary? It can be tempting to adopt new technology simply because it's new. Don't get caught up in the hype; do your due diligence and decide whether or not a piece of tech will actually improve your business."2
The benefits of process modernization are quite evident. Forrester "has routinely found that automating and modernizing processes leads to lower costs, fewer errors, and faster execution."1 However digital transformation does not begin with technology. It begins by having a solid organizational structure, culture and mindset in place to adapt and grow with transformation. Companies have to be willing to embrace and create the change necessary to adapt and lead in an evolving world. It begins with a clearly defined process. Which begs the questions, what is your process?
Reference Sources:
1. "Reinventing Workflows - Power your digital transformation and drive greater impact by modernizing processes" - Forrester Consulting
2. "Why the future of Technology Lies in Simplicity" - Dan Demers, Forbes Magazine
3. "In IT, our Job is to Remove Friction" - Martha Heller, CIO Magazine
4. "A keystone for Digital Readiness" - Whynde Kuehn, Institute for Digital Transformation