At Memphis Reprographics, we believe printing goes beyond simply pressing a button - in fact, we do much more than just printing. From initial RFP submittals through project delivery, Planrooms and consolidating drawings and information, our team is here to make the entire process go smoothly, with attention to detail and quality checks to reduce errors. We approach each client as a partnership rather than a vendor relationship so that you can get the most out of your team, project, and bottom line.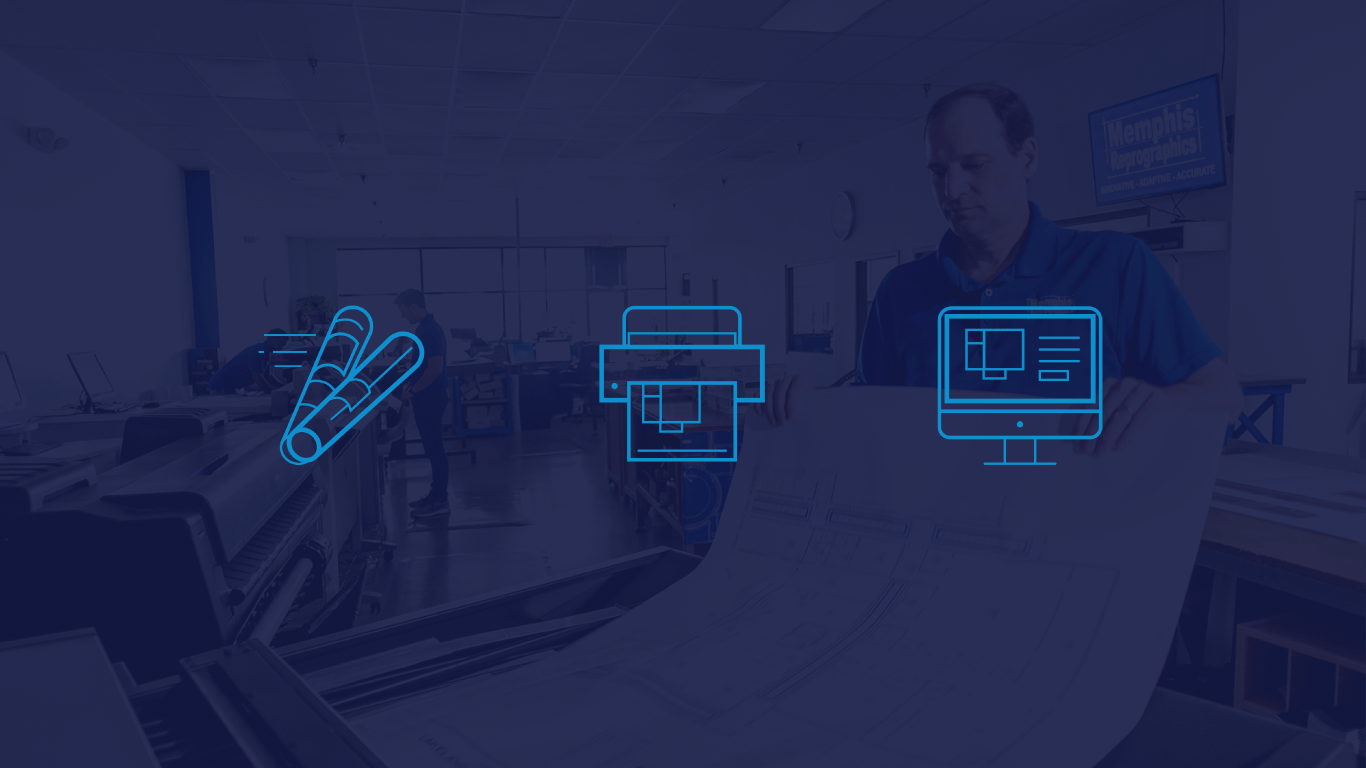 A partner that's a part of your team
Our goal is to be an extension of your internal team. We want to be familiar enough with your processes that we can help accelerate the project as needed to meet the fast-paced deadlines of the design and construction industries. Our team's collaboration frees up your team to focus on what they do best. Every member of the Memphis Reprographics staff is educated on each step in the document management or printing process, and we are not dependent on any one person being present to get a job done. When you need a quick answer or fast advice, any team member is here to help you through a smooth, adaptive process.
We find that no matter the size, both small and large architecture, engineering, and contractor firms benefit from a document partner working alongside them. Each client's need is unique, depending on the level of technology used, the previous software in place, developed habits, and many other factors as to how they prefer to work with Memphis Reprographics. If you are using a different software, our processes are not proprietary to our platform, and we can work within the boundaries your team has already set in place. New firms may work differently from established firms, but each can benefit from an outside hand to help them improve, streamline, and educate on the latest and greatest methods to adapt to the ever-changing industry.
"By ensuring that we not only meet the standards of the project, but looking for ways to enhance the experience, we feel that we are part of the project team."
An easy bid process or document distribution step adds to the capable brand you need to build. From working across multiple sectors and clients regionally, nationally, and internationally over the last 11 years, we've seen where a partnership truly comes into play and aids in getting the next big job.
When project details matter
The biggest and most often valued aspect of our team's work comes from the meticulous eye we have for reviewing documents. You've spent important time creating, managing, and packaging your project's documents, and the systems to manage them deserve the same care. More often than not, there's a small error in page numbers, missing fonts, or incomplete sections (the list goes on) that come to our attention before distribution. We even read and quality-check your consultants' submittals to ensure that each piece is complete and in its proper place so that you have a smooth process ahead. Without that attention to detail, the ripple effect across your own processes becomes a headache that gets out of hand all too quickly. If your printer is simply pressing a button and letting mishandled documents out the door, you're losing money just as quickly. Accurate documents with comprehensive quality checks save your project valuable time and money especially when your reputation is at stake.
How can we help you avoid those same mistakes moving forward? What's not currently working within your own systems that needs a second look? Count on Memphis Reprographics as the partner you need when the details matter.
Future focused
While it's easy to get caught up in any big, immediate task, you have future goals for your firm. As each project compounds, mistakes also add up, affecting your bottom line. As we mitigate the risk of errors, your team is freed up to focus on what matters most. You now have opportunities to take on more projects and be more efficient and effective in existing projects. As your partner, we can help you think about the bigger picture, beyond the task at hand. The processes you have in place now may be working, but what about the next project? We can help advise on those very processes so that you'll be ready when the next big project does arrive. Whether it's document distribution, centralized bidding, or a myriad of other steps in the process, we're ready to scale with you.
"In true partnership with clients, we help advise on best practices for document distribution, to ensure that the requirements of the project are not only met, but exceeded."

A smooth process with a partner you trust translates into more bids placed or more bids received, more documents sent with fewer errors, more jobs won, and a happier team. We'll celebrate those successes right alongside you as your partner, not just a printer.
---