As 2020 kicks off, we wanted to take a look back at 2019 and the amazing opportunities that it brought to us and our community. It has been a great year! It was a very exciting time for our city as we were able to continue to watch Memphis grow, and we are so grateful to have been a part of the process.
Along with an exciting period of growth in Memphis, we were blessed with a year full of new opportunities here at Memphis Reprographics! It was an honor to have been able to support several local organizations in our community, and we wanted to highlight a few of these groups as we share our profound moments of 2019.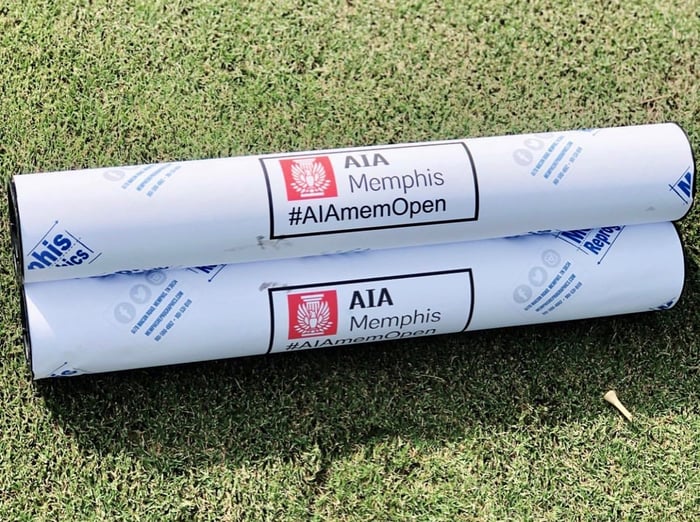 AIA- American Institute of Architects, Memphis Chapter
Our year started off with a bang with the 2019 AIA Memphis Gala, beginning with a pre-party that we hosted at Local on the Square. We had a blast visiting with everyone there and loved being able to celebrate the work of some incredible Memphis Architects as they were awarded for their achievements at the Gala.
A few months later, we continued our yearly tradition of participating in the AIA Golf Tournament. Per usual, the day was filled with laughs and good stories that we will continue to talk about at our office for months to come! We were a hole sponsor during the tournament and chose a hole theme of "More Than Just A Printer," featuring an ironic grouping of printed banners and cardboard cutouts of a few members of our staff.
To learn more about AIA's efforts and how they are working with communities to create more valuable, healthy, secure, and sustainable buildings and cityscapes, click here.
CSI- Construction Specifications Institute, Memphis Chapter
In April, CSI hosted its annual CSI Build It Products Display Show. We used our booth as a makeshift studio and teamed up with Master Video Productions to create a video while at the event. Through this, we were able to use on-the-spot interviews to highlight what CSI means to the architecture and construction industries in Memphis.
Chris McNally, Owner and CEO of Memphis Reprographics, had the honor of speaking at one of the CSI luncheons later in the year. There, he presented on the perils and pitfalls of document process and distribution. Following Chris's humorous yet informative video presentation, an open discussion began among CSI members representing several local firms about how document process systems affect each of their organizations and new ways to implement Chris's suggestions.
CSI is a national association dedicated to creating standards and formats to improve construction documents and project delivery. To learn more about CSI, click here.
If you would like to watch Chris's presentation to learn more about Document Process Management, click here.
2019 was our first year as members of CityCURRENT, a philanthropic organization based around three main principles: volunteerism, free public events, and positive media. Through our membership, we had the opportunity to attend signature breakfasts with keynote speakers, support local charities, and share our message through interviews featured on multiple media outlets. We have loved being a CityCURRENT partner and having a firsthand look at all of the incredible work that they are doing for Memphis and the state of Tennessee!
To learn more about CityCURRENT's mission and their impact in our community, click here.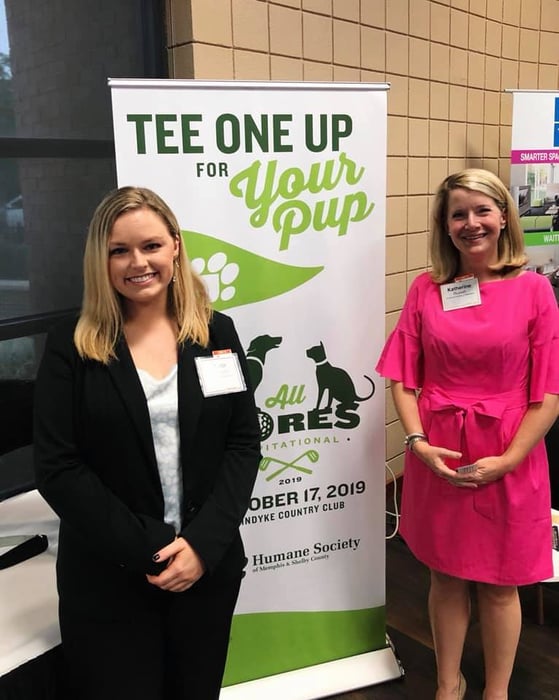 Humane Society of Memphis and Shelby County
As CityCURRENT members, we had the privilege of setting up a booth at the monthly Signature Breakfasts. In September, we donated our booth to the Humane Society of Memphis and Shelby County to promote the Inaugural All Fores Invitational Golf Tournament. We were proud to work alongside Tim Garrett of Belz Architecture + Construction, Daniel Carter of Master Video Productions, Ben Fant of Farmhouse Branding, and the Humane Society staff to organize the event. The tournament would not have been possible without the support of these generous sponsors:
Also, a huge thank you to all of the players and everyone who donated their time and efforts to make the day successful! We were thankful to be able to play a role in this tournament and support the Humane Society in its mission to provide care for neglected and abused animals. Through events like the All Fores Invitational, they are able to offer the animals emotional support and professional training that will allow them to be adopted into forever homes.
If you are interested in supporting the Humane Society through donation, click here.
ABC- Associated Builders and Contractors, Memphis Chapter
A renewed membership with ABC added a lot of fun to our year through our involvement with the organization. We had the opportunity to provide volunteers at this year's Clay Shoot and Halloween Golf Tournament and were proud to have our Account Executive, Michelle Bellican, serve on the Membership Committee. We also were excited to help support ABC's mission of continuing education by providing in-kind printing for their Blueprint Reading Course, led by Don Sloan of Chris Woods Construction.
To learn more about ABC's mission to provide value to West Tennessee's construction community through education and training, service, networking, and political advocacy in a way that promotes the merit-shop philosophy and free enterprise, click here.
New Team Members
Through all of the involvement outside of the office, we were able to grow internally as well. 2019 was an exciting year as we welcomed four new employees to the Memphis Reprographics team! Our new members bring with them a broad scope of knowledge and experience and we are thrilled to have them on board!
To view our entire staff, click here.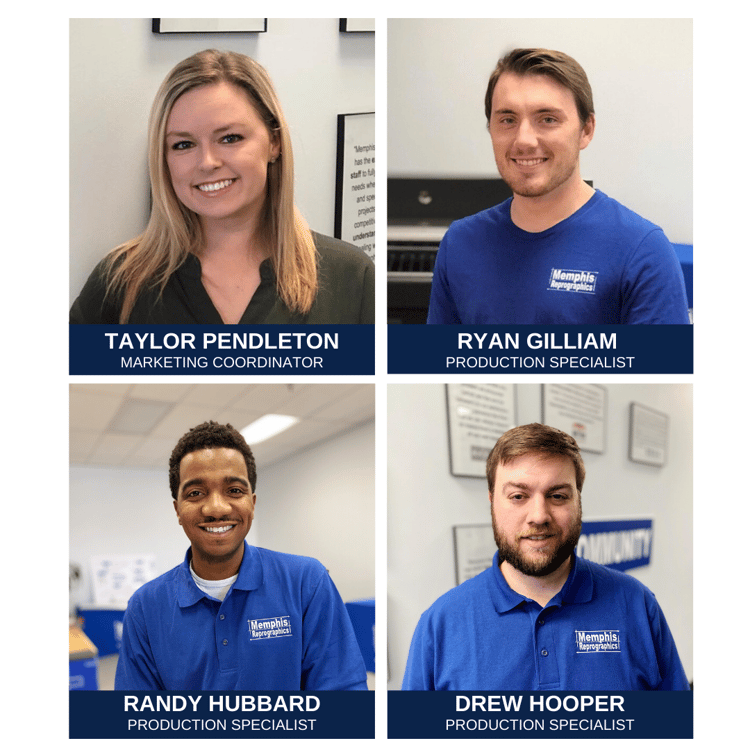 Looking Forward
We are so thankful for a year that brought growth, opportunities, and excitement to our office and Memphis as a whole. With 2019 behind us, we are looking forward to continuing to evolve in the years to come. We are especially excited about what's next in 2020, so stay tuned...